2020 has surely proven to be an unusual time for couples in Wilmington who were planning on getting married. However, we have to say we have seen the resilience of love, and the power of community during this time, and there's no better proof of that then Sara and Patrick's island elopement on Masonboro Island. See our Masonboroa Island Wedding where we provided ceremony music.
When Helen of Visuals by Helen Photography called me with her idea to give away an elopement session to a couple who's wedding had been affected by COVID-19, Coastal could not wait to throw our hat in the ring with other terrific vendors in the area who were on board.
With Helen's help, 10 Wilmington vendors pitched in their services for free for a couple who wanted an amazing, intimate wedding on Mason's Inlet, a little stretch of paradise on the southern North Carolina coast.
As wedding vendors, we have become so used to being with happy couples getting married during the weekends, and it felt so good to be back out there doing what we love for people in love. We need each other now more than ever!
Sara and Patrick are not from Wilmington but were familiar with the area because Sara's sister and brother in law live here, so they thought it would be the perfect place to exchange their vows. They were so excited to hear that they won, and the date was set for July 10.
Out on the inlet, it couldn't have been a prettier day to get married. We set up with the music, all ready for the short and sweet ceremony, and everyone looked great, even their dogs Sawyer and Finn in their blue bow ties. The tide was at the perfect spot, the skies were blue, the clouds were puffy and white and it just felt so good to see two people tie the knot!
Sara and Patrick chose songs that were meaningful to them and their relationship. We always want the music to frame this important event in their lives and the songs they chose were fantastic. The parents were seated to "What a Wonderful World" by Louis Armstrong, the wedding party (plus dogs!) processed to "You and Me" by the Dave Matthews Band.
Sara and Patrick chose Adele's "Make you Feel my Love" for the processional, and after the vows were said and it was official, Rusted Root's "Send Me on My Way" was a perfect choice to end this intimate and special wedding on the inlet.
Florals and the arbor on the beach were provided by Amy at Do Me a Favor Weddings, the beach-themed cake was provided by Imaginary Cakes and we were set up and ready to go with the music.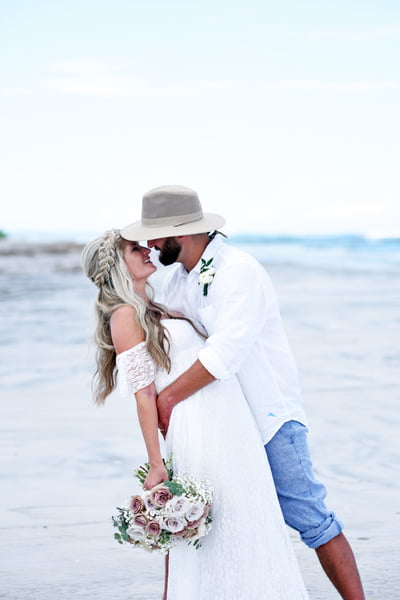 Sara got pampered with hair by Set Blow Out Bar and Makeup by D Forte Makeup. Patrick was looking beach-sharp in his crisp white shirt and wide-brimmed hat. They were married by the always eloquent Pastor Bill Simpson, barefoot and happy with all the people they love the best all around them.
Helen worked her photo magic on the beach with some great portraits of friends and family and her associate Sydney got some killer drone photos that give you a great overview of the ceremony site.
After the wedding, the party was ready to begin with a cruise on Epic Excursions out around the inlet with the wedding guests. They toasted with a local favorite distillery, Blue Shark Vodka. They created custom cocktails the "Wilmi Mules" and the "Drunk in Love" that the guests enjoyed as the newlyweds kissed and set off towards their next adventure in life.
Thanks so much to Helen and her efforts to put together this giveaway, and to all of our Wilmington wedding vendor community for making it such a special day for Sara and Patrick.
Cheers to the 2020 couples! Love always wins.
If you need ceremony audio and music where there is no power, Contact us today!
TRANSPORTATION:
Epic Excursions — Kristi Balding
@epicexcursionsnc
& Jess Powell, private boat
PHOTOGRAPHY:
Visuals by Helen
@visuals_by_helen
AERIAL DRONE PHOTOGRAPHY:
What Sydney Sees —Sydney Rose
@whatsydneysees
ARBOR+ FLORALS +PLANNING:
Do Me A Favor Weddings — Amy McGraw
@domeafavorweddingsandevents
OFFICIANT:
Weddings with Bill — Bill Simpson
@weddingswithbill
MAKEUP:
Danielle Forte Makeup Artist — Danielle Forte
@dfortemakeupartist
HAIR:
SET Blowout Bar — Kate Thompson
@setblowoutbar
SUNSET CELEBRATORY COCKTAILS:
Blue Shark Vodka — Brooke Bloomquist
@bluesharkvodka
CAKE:
Imaginary Cakes — Courtney Butler
@ImaginaryCakes