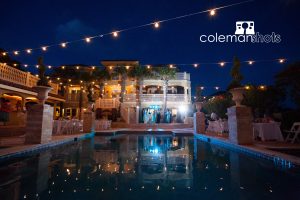 Saturday, June 8th, 2014 was a memorable evening for all in attendance at the Grand Ritz Palm in Duck for the celebration of David and Tiffany's Outer Banks wedding on the Currituck Sound. Coastal DJ and Video was there to provide the ambiance for the dinner and the rhythm for the dance party to follow. This is DJ Karl here to give you the inside scoop.

Steel Drummers performed for the ceremony and set a nice ambiance for cocktail hour as well, after David and Tiffany said "I do" and became Mr. and Mrs. Zinicola. Just before sunset on the sound, I introduced the wedding party to the tune of "Magic" by Pilot. The newlyweds then shared their first dance to the David Gray song "This Year's Love." Classic singer songwriters like Frank Sinatra and Dean Martin helped to enhance the classy ambiance for dinner by the poolside at this amazing venue. Once the guests had finished their meals. The new family of four started the dance party with a family dance. David and Tiffany, along with David Jr. and Sophia, started of the dance party together right after the toast.

Once the Dance party was underway, everyone was out of their seats celebrating by dancing to the music. The poolside dance floor was awash with joyous smiles and laughter for the entire evening. Enthusiasm was plentiful and the guests were untiring. These are the kind of gigs every DJ loves, when the guests just can't get enough! I am certain that the party that night lasted long past the end of our program after the last song of the evening was played. Congratulations once more to the Newlyweds David and Tiffany and their new family of four. Best of luck to you all, and thank you for sharing your special day with us!